Sparky's Spark Plug Equivalents
According to the Haynes shop manual (the only one I've got to check) the R75 is supposed to use Bosch W6D spark plugs. I've had trouble finding these so I searched the web and found a couple different sources with spark plug equivalent listings. Sometimes they agreed with each other and sometimes they didn't. Here's what I've found:
| | |
| --- | --- |
| Manufacturer | Model no. |
| Bosch | W6D |
| Old Bosch # | W200T30 |
| AC Delco | 41-4XLS |
| NGK* | BP6ES |
| Champion | N9Y** |
| Lodge | HLNY |
| Marelli | CW7LP |
| Nippon Denso | W20EX-U |
*Apparently the NGK STK# for this is 7911 but I don't know if 'STK' is stock or sticker.
**N9YC according to one source.
I've never heard of Lodge or Marelli. I'm sure they're wonderful plugs but are they even sold here in Canada?
Here's Bosch's model code explained.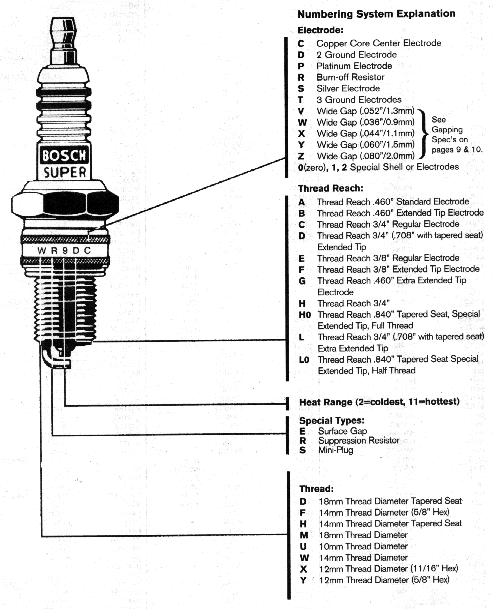 If you're from Bosch, I'm really very sorry I stole this graphic and am using it without permission. Notify me that you're unhappy and I'll remove it immediately.

Last Updated on Thu, Dec 5, 2002.