Scott's BMW Boxer!
Ontario Airheads web pages. (long moribund and forgotten.)
I finally did it! In March 2000 I bought an old Beemer! I've been oogling these machines since I was a teenager and I finally found one I could afford. The photos have been compressed into JPEGs which has kind of obscured my really BIG smile. You can see some little improvements in the lower two pictures; I've added luggage, a rack, the right seat and a fairing. I even joined the Airheads Beemer Club for a couple years. I was Airheads Beemers Club member #5192. I've let the membership lapse now. I named the bike "Sparky", in memory of Charles Schulz. What do you think? (I couldn't give my children dumb names so I've got to get it out of my system somewhere else.)
Before: (Spring 2000 - just after I bought it.)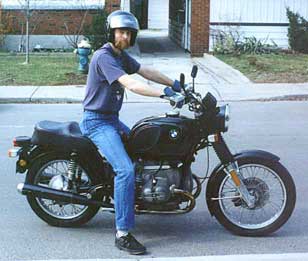 It's a 1974 R75/6 (so it was built before I was a teenager.) It's in pretty good shape and runs pretty well too except for one nagging problem I'll mention later. It's black with the larger size 22L tank and rubber knee pads. It came with an extra engine so I'll have one for spare parts. Oddly, the engine that's on it is an earlier one from 1969 (an R75/5 engine) and the spare I've got is the original /6 from 1974. The mufflers were black too but were done up with a really poor paint job so I stripped the paint off. I found out why they were painted; the left one looks as though there was some acid spilled on it that ate through the chrome leaving dull grey streaks. :-( Now I have to look into electro-plating. Let's see, what else is on the "to do" list...
To Do
Clean everything.
Spring oil change. Oil & air filters.
Reconnect the neutral switch to get the indicator light to work. (Megs wants to learn how to ride Sparky so I want to get it in prime - or at least better - shape.)
Sparky needs some instrument lights. I got some from MotoBins but I've yet to install them..
Sean Weaver is going to help me out with some repainting.
Mount the newer "Shadow Royale) fairing I got as an upgrade (replacement really) to the Luftmiester.
Lube the wheel bearings.
Figure out where it's leaking oil from.
Find one lid for the Bates luggage Martin gave me. Ben says to make one out of fibreglass. He did a nice job making a lid for his Craven bag.
Done
With a pile of help from Oak, I figured out why the right side misfires/backfires at idle speeds once it was warmed up.
I got new spark plugs and resistor caps. Sparky starts more easily now.
Replaced front brake cable.
Cleaned and lubed the tachometer & replaced cable.
Got an original owners manual.
Got battery side covers and given them a fairly dismal paint job.
Roger Botting gave me a beautiful /6 seat.
Replaced a few instrument lights.
Fixed the front brake-light switch but it's not right yet. I think I'll use the switch on the master cylinder.
Installed new carb air hoses. I think there were bits of old radiator hose there before!
With John and Keith's help, cleaned contacts and tidied up runs of wire.
Stripped and recoated the fuel tank interior. A long job but worth it.
Martin also passed along some luggage and mounts.
Floyd Twyford got a tool tray and a few other bits to me.
I replaced the battery. The kick start went with the 4 speed tranny so I depend on the electric start now.
Swapped 4 speed for 5 speed tranny, clutch & new cable.
Changed the oil and filter. Getting that O ring out is a killer!
Disassembled and sort of fixed the light switch.
Keith helped me remount the side stand but I still don't trust it to actually support the bike. I'll be on the lookout for a used Brown sidestand.
Re-routed my speedo cable to try to make the needle stop jumping around. Works fine as long as the weather's not to cold.
Martin Aller-Stead gave me an old Luftmiester fairing which I put on for the cooler fall weather. Unfortunately I had to take the engine guard bars off to fit it. I had to make a wiring harness for it, cut a new wind screen and Paul Farrauto welded the broken mounting backet back together again.
Assembled a tool kit.
Clamped on a centre stand 'spigot' replacement.
I swapped the right cylinder head - valves and all - to see if that'd fix my misfiring problem. It didn't :-( But I got better power :-) so I did the left side too.
Disassembled, cleaned and adjust the carbs.
Installed a vacuum port on the one carb that was without.
Replaced the throttle cables.
Got missing parts for steering damper. Roger had spares. Now I need to install them.
I installed some replacement rubber bits; foot pegs, cable covers, speedo boot.
After: (Summer 2001)
I worked out my gas mileage after the first full tank. Now, bear in mind that this was driving around town in second gear and sitting in traffic sniffing exhaust fumes. More recently, after a tune up and doing highway miles, I worked it out again.
| | | | |
| --- | --- | --- | --- |
| City | 9.9 L/100Km | 28.5 mpg Imp. | 23.7 mpg US |
| Highway | 7.6 L/100Km | 37.6 mpg Imp. | 31.3 mpg US |
| Hwy after MOA repair | 5.2 L/100Km | 53.9 mpg Imp. | 45.6 mpg US |

Don't those first two sets of numbers stink? That's Sports Ute mileage! I could be driving a Hummer with gas economy like that. Ah well, a Hummer isn't nearly as cool as an R75. Read on to find out about the third, much better, set of figures.

After some more: (Fall 2001)


Contact me if you've got a bike and just want to go for a ride. Maybe we can organise a T.O. ride day.

I hosted a Southern Ontario tech-day at my place on Saturday, May 26th 2001. We swapped my tranny and clutch with the ones from Sparky's original engine (which I have for such spare parts). Many thanks to the other Airheads in attendance: Roger Botting, Ben Barko, John Snider, Brett Fogg, Martin Aller-Stead, Warren Young and Antonio Espinosa. (Tony had to work and only made it after everyone else had cleared out. Darn sporting of him to come all the way down to say hello.) I couldn't have done most of the work without them and the little I could've done would have taken days and I'd have got a fair bit of it wrong.

Then, on June 23rd 2001, St. John Snider hosted a tech day up at his place in Cambridge where the guys helped me replace my points, set the timing and balance the carbs. Now Sparky aught to be running like a top. There's just one fly in the ointment; it misfires on the right side at idle once it's warmed up. I can't quite figure it out.

On January 5th, 2002, several of the Southern Ontario Airheads got together at the bike show and later had dinner together; all civilised like.

On July 11, 2002 I went to my first motorcycle rally. I chose the right one ; the BMWMOA Land o' Loon national rally. Despite it being called a national rally, it was held outside the Ewe Es Eh here in Trenton, Ontario, Canada. However , most of the 5,800 attendees probably weren't aware that they weren't just in some state they'd never been to before - except for my brother and sister Airheads. They knew. Here's a snap Keith Porter took of me puzzling over Sparky's points: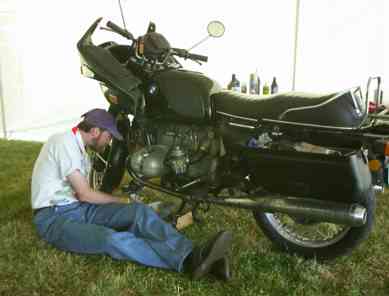 Thanks to Oak pointing me the right way and George Haggerty guiding me through the work, Sparky is now running like a top! Those new gas mileage numbers above are thanks to that repair. Now I've just got to fine tune my carbs and I'll be set.
Oooo, I just love my Beemer (to paraphrase Eloise). The only thing better is all the great folks I've met in my chase after parts and information. They've made learning all this stuff a really great experience.

---
Here are some pages of links to explore:
BMW motorcycle organizations and clubs.
Beemer riders' personal web pages..
Technical tips and how-to pages.
Bike parts, accessories & services.

and check the Ontario Airheads web site for what's happening now.
Last Updated on Sun, Mar 23, 2014.