Scott's BMW Boxer is
For Sale
SOLD
I'm selling my 1974 R75/6. That's a 750cc, horizontally-opposed twin cylinder four-stroke.
$3,000 As Is is my asking price for all of the below bits and pieces.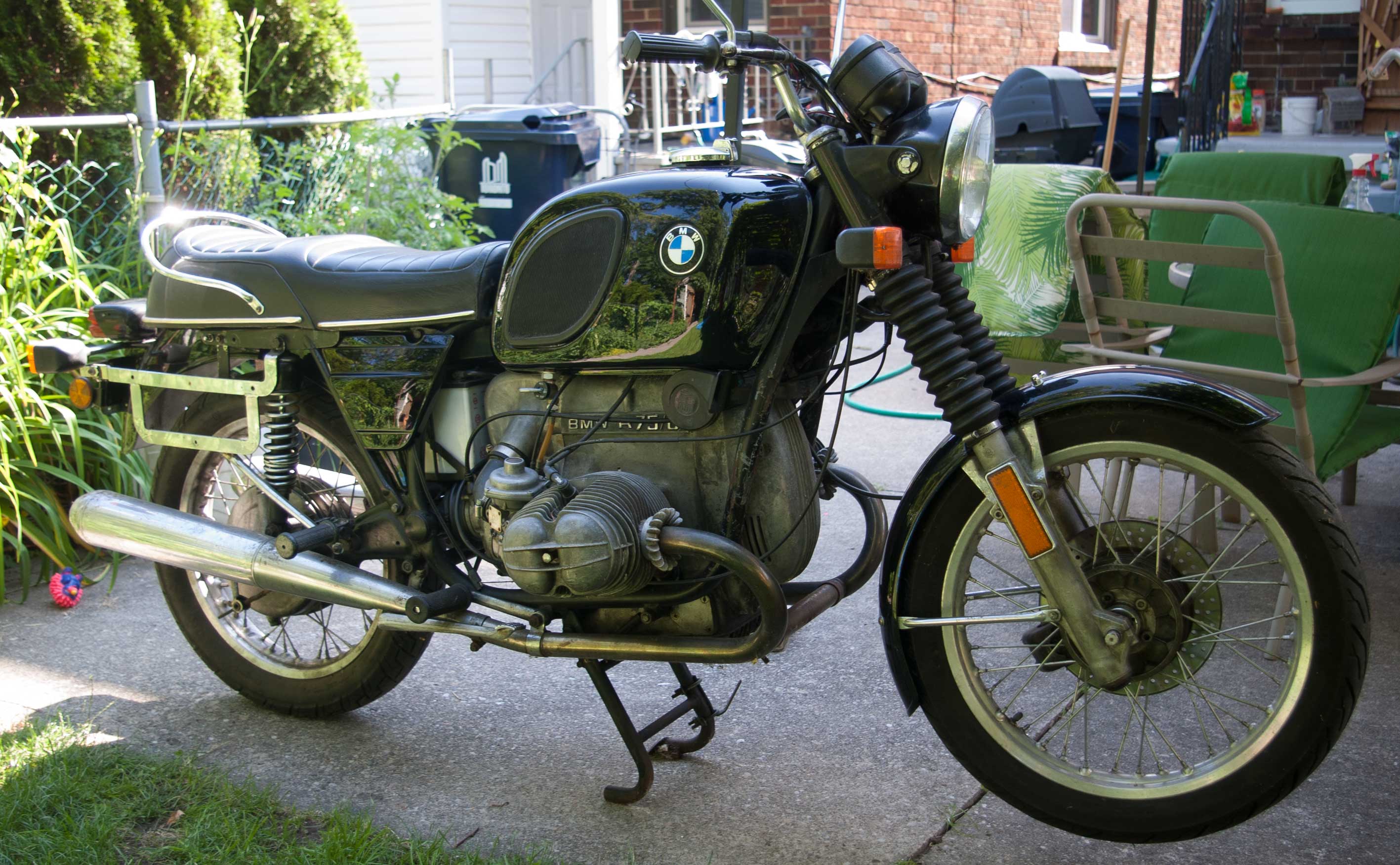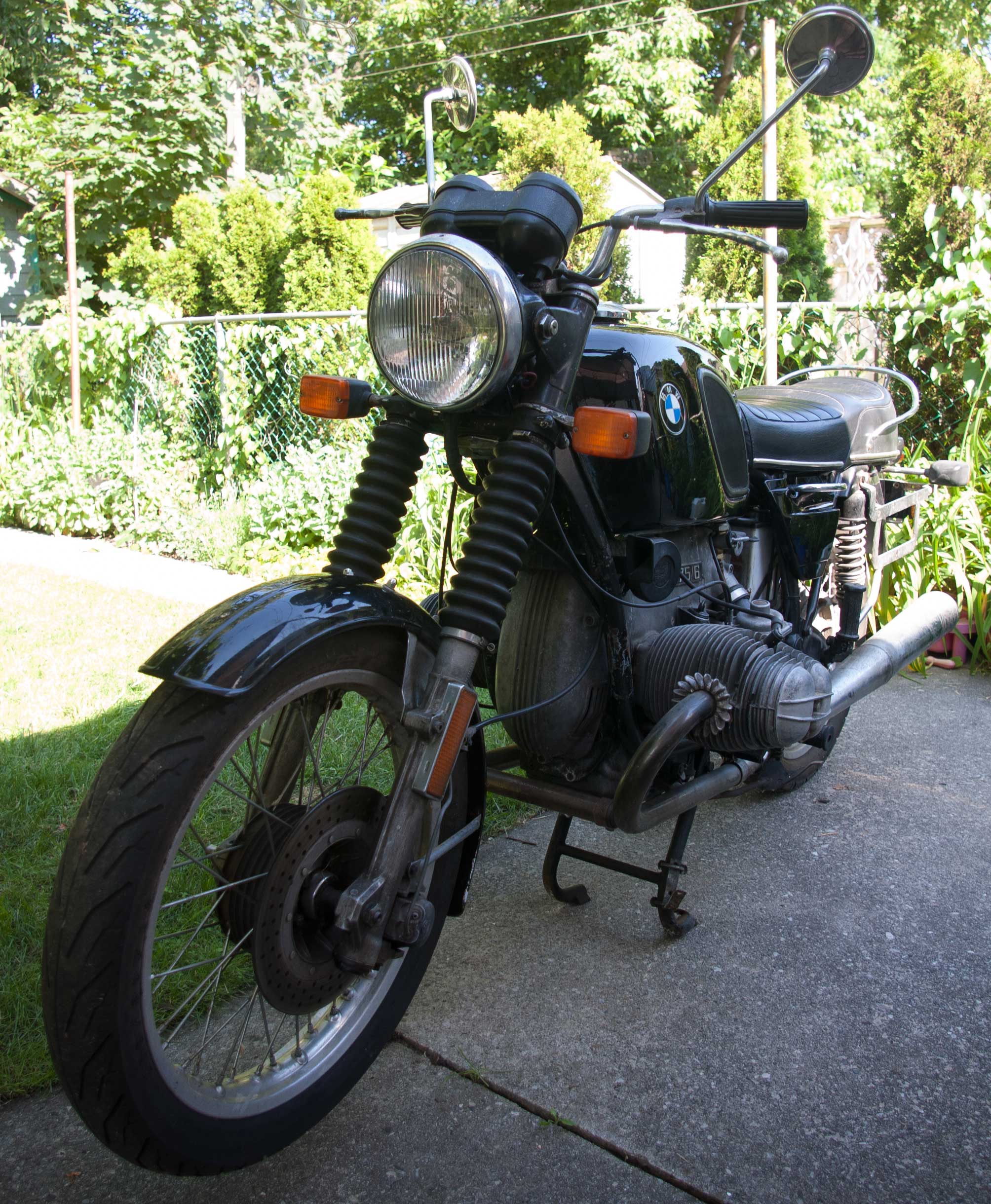 I bought it In March 2000: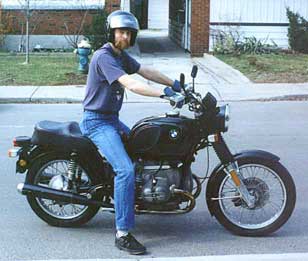 Work Done and what you'll get
It's black with the larger size 22L tank and rubber knee pads. It came with an extra engine so I'll have one for spare parts. Oddly, the engine that's on it is an earlier one from 1969 (an R75/5 engine) and the spare I've got is the original /6 from 1974 so you'll have the matching serial number in case that's important to you:

I got new spark plugs and resistor caps. Sparky starts more easily now.
Replaced front brake cable.
Cleaned and lubed the tachometer & replaced cable.
Got battery side covers and got them, the fenders and the fuel tand all freshly painted as pictured above:

Got a correct /6 seat.
Replaced a few instrument lights.
Installed new carb air hoses. I think there were bits of old radiator hose there before!
Cleaned contacts and tidied up runs of wire.
Stripped and recoated the fuel tank interior.
Got some Butler & Smith luggage and mounts:

One lid is missing and there's a hole in the corner of that one too.

Got a tool tray:

Replaced clutch & new clutch cable.
Changed the oil and filter.
Disassembled and sort of fixed the light switch.
Re-routed my speedo cable to try to make the needle stop jumping around.
I swapped the right cylinder head - valves and all.
Disassembled, cleaned and adjust the carbs.
Installed a vacuum port on the one carb that was without.
Replaced the throttle cables.
Got missing parts for steering damper.
I installed some replacement rubber bits; foot pegs, cable covers, speedo boot.
Including the engine guard bars:

They look like so once mounted:

Including a Pacifico "Shadow Royale" fairing and mount bracket:

The bike looks like this when it's mounted but this is a picture with a Luftmiester I had earlier:


This will need a wiring harness made for it.

Including a Butler & Smith rack as is pictured in some of the above photos:

I'm also including an alternate Craven luggage rack and rear case:

Cold weather riding hand covers that velcro on around each hand-grip:

I've got some spare partsto go with it: the "750cc" decals for the battery covers, some gaskets, an air filter and some other odd bits.
Caveats and known issues:
The bike hasn't been run in 10 years. It will need a new battery, the tires are old and probably too dry and should be replaced. There's something wrong with the front brake; there's no hydrulic resistance to the brake lever.