The S.O. Airheads eat.
We went to the Dehli Dome and partook of the buffet. Good food, good company and right across the street from the International Centre. Oddly enough it still took some of us half an hour to get there. None of us rode our airheads so we couldn't have taken a recreational detour. I think it's because the International Centre has about 30 acres of parking lot to traverse en route to crossing the street.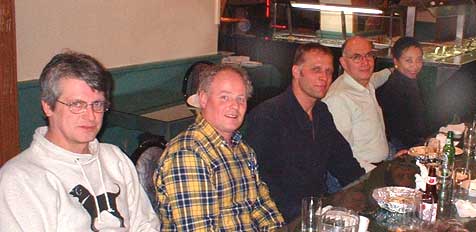 That's Roger Botting (on his birthday), Martin Aller-Stead, Lawrence Hogarth, Ben Barko and his lovlier half; Evina.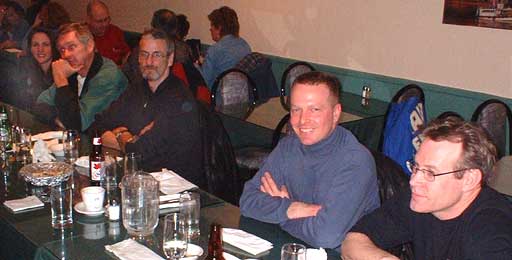 Here are Wendy (who's going to buy a V-rod) - a friend of Evina, a gentleman whose name I've forgotten - a friend of Lawrence, Michael Cooper, Brett Fogg and John Snider (the saintly). In the background there are some total strangers. I can't help you with them. Sorry.

Motor on back to Scottie's Bimmer pages
Last Updated on Thu, Dec 5, 2002.