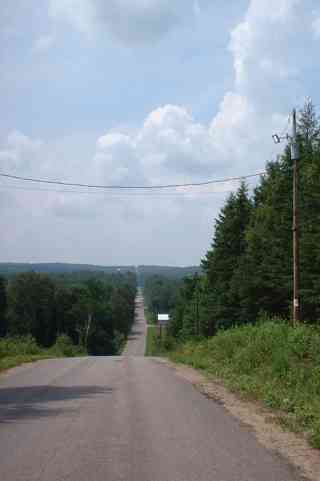 About 15 Km north of Bancroft off hwy. 62 you'll find Graphite Road. If you drive east down Graphite Rd. about 4 Km and you'll find an opening on the south side of the road that looks like it just leads into a gravel pit. That's Pineridge Lane. No, wait, they've renamed it "Maison Ln."e was already a Pineridge Ln. elsewhere in the vacinity.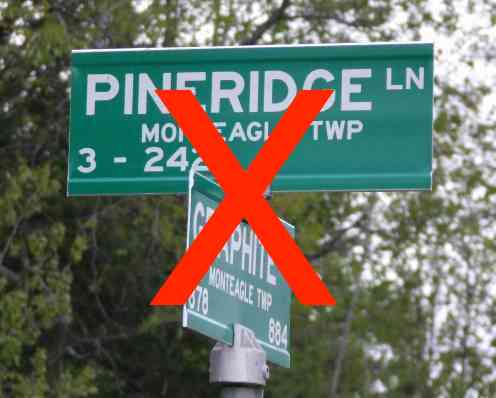 If you drive in a little ways, you'll come to a locked gate.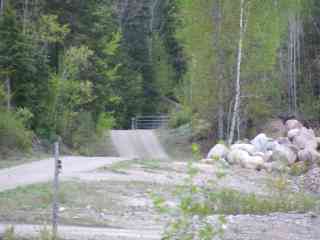 Another 3/4 of a Km past the gate is our little spot in the woods. Then you can drop 'round for tea. We'll have to make arrangements with you ahead of time to meet at the gate or get a key to you in advance because we've no phone and the breeze blows away the smoke signals. Late Brteaking news: Sometime recently (spring 2007) they've added a cell tower nearby! Now we have cellular coverage and so can be reached by phone.
Here it is on Mapquest's or Google Maps web sites in case you want to scroll around a bit. If you don't mind it static, here's their map of our area. I added the lot and our little road 'cause they left them out: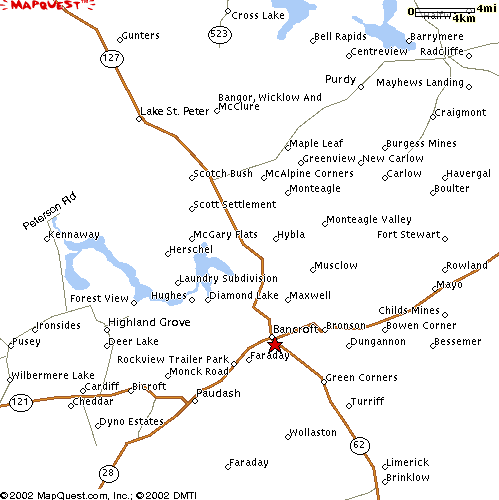 An overview of the Bancroft area.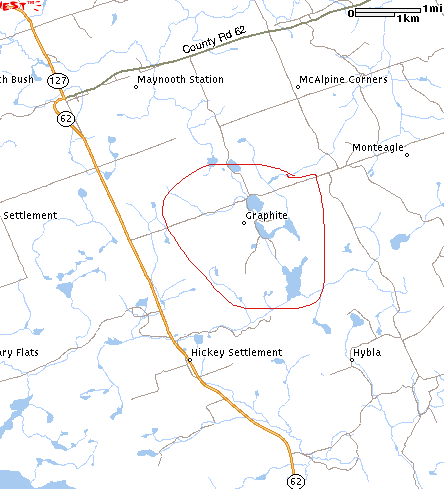 A closer view of Graphite Rd.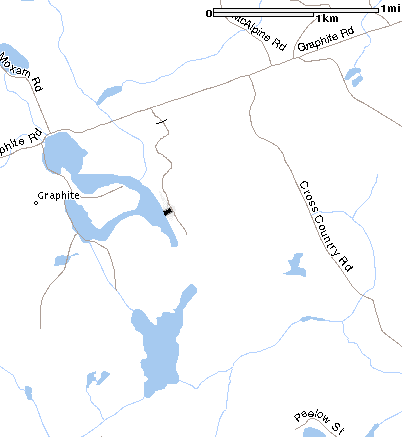 And finally, our little lake. That small black rectangle is our .74 acres.
Here's Meggsie's now out-of-date instructions:
Getting There
I am sure you can manage the bulk of the trip without instruction -- but lord knows I cannot restrain myself from giving the looooooooog annotated version.
401 east to 115/35 (I think it says Peterborough/Lindsay)
Stay on 115/35 NORTH -ish until you reach something of a T junction. If you go left you'll end up in Peterborough. If you go through you'll end up on some country road that leads you to Tree Stump or Boogerville or something. Just don't go there. Take the right turn lane and you'll find yourself approaching another intersection. On the south east corner there is a Country Style and a gas station.
As road side coffee shops go on this route, this one is your best bet for a stop. The coffee is good, the staff are pleasant and the washrooms are functional and not-awful. Don't want to perform surgery in one, but there always soap and toilet paper and paper towel.
Beware the coffee. Don't start with a big gulp. IT IS SUPER HOT. But good.
DO NOT BUY GAS HERE. There are at least three places where its much cheaper.
If you stop here, you want to turn onto the same roadway you would have been on if you had not stopped here. Confused yet? I'll find a map to include.
This will put you on a small stretch of, I think HWY 7. Within a minute or two you'll see on your right such businesses as an outdoor furnace place, a tack shop and a cheap gas station.
On your left there is another cheap gas station and an odd business called "Almost Perfect" which sells "seconds" in frozen food.
Other business are on both sides too. Within a short time (5 to 10 minutes) you'll come to an intersection with lights that puts you on HWY 28. I think. Once again, I'll find a proper map. On the south west corner there is a place that sells boats and rafts and such fun stuff. On the north east corner is a Coffee Time. Unless you are in a full blown caffeine fit, DO NOT GO THERE. We have had some less than stellar experiences there and the toilets leave much to be desired. You'd have a more uplifting experience peeing on the side of the road.
Turn LEFT at this intersection and you'll soon go over rail ways tracks and have a lovely bucolic drive northbound along what I like to call the Cow Portion of the drive.
There are numerous farm fields with happy frolicking cows, calves and the odd grumpy looking bull. There is also a sheep farm but the sheep are rarely out at play. When they are, there is a llama overseeing them. No kidding.
All too soon the highway comes to a bit of a junction again, but mostly goes right. Go with it. This part of the sequence is highlighted by Burleigh Falls.
Martha's boyfriend (now our son-in-law), whom I sometimes call My Foundling as he lived with us for several years, will tell you Burleigh Falls is just a place where bad things happen.
This is his advice: hold your breath when travelling through Burleigh Falls, lest the devil reach down your throat and steal your soul.
I always do this. Woe betide you if you do not.
I'm just sayin'.
No matter how tempted, do not take the turn off to Bobcaygeon. I can never get that Tragically Hip song out of my mind.....
Just follow this road, its quite pretty, past Apsley and and a zillion little towns until you get to Bancroft. Turn left on the main drag and you are on HWY 62. Just keep blazing. If you feel you might pine for flush toilets, you have a Last Chance at the Tim's. If you stop by, I like extra large, double milk, NO SUGAR. Scott likes double double. Just in case.
Then keep going up HWY 62. Past Bird's Creek. Past Baptiste Lake Road South. Past Baptiste Road North. Past Hybla Road. Past Stop 62 on the left hand side.
Look for GRAPHITE LAKE BIBLE CAMP and Graphite Lake Road. Its a Right hand turn with a very short turn off-lane. Numerous times I have been belting it out with Katy Perry on the radio, nearly missed the turn and almost ended up in the ditch.
THIS IS THE ONLY TRICKY PART YOU ACTUALLY HAVE TO READ:
Carry on up (and down and up and down) Graphite Lake Road. There are a number of hills. Watch out for Bumpkins. About half way along there is a signing hanging at the edge of some one's drive that has either a Bible quote or message of a religious nature. Keep going. Its tempting to go with the down hill momentum, but beware: there is a sharp curve around a hillock of rock. Once you make this turn you can see the end of Graphite Lake. Avoid driving into it.
On your left is a house that looks like it came in a box from Ikea with front doors with howling wolves or some such thing etched on the glass. On your right is the Bible Camp. Then the Bible Chapel. Then a tidy square house belonging to 87 year old Maurice Freymond. He is fit as a fiddle, sharp as a tack. He could easily do eye surgery with a chain saw -- he is that skilled. Maurice is my hero.
Go just a little further until you find yourself just past a 911 number sign (869?) on your left and on your right two birch trees with real estate signs on them. One sign is broken. Turn there. It looks as though you are turning into a gravel pit. This IS the right way.
Toodle along, through the gate if its open. We're about 2 km in. Some one will walk out to the end of the drive so you can figure out which gap in the trees leads to our place.
Margaret's cell 416 357 0953
Scott's cell 416 258 0721